Retreat in the Jungle.
Spend the night in our secluded Caribbean oasis. When you're here you can feel the buzz of bio-diversity and the energy of the jungle. You are completely immersed in the sounds of waves crashing, birds chirping, and monkeys howling from the treetops.
All our guest cabins are hand-built from fallen trees and bamboo foraged and milled on our land. Most have solar-powered electricity, however we encourage you to give your eyes and body a break from artificial light during your stay and end your day by candlelight.
Included in your stay:
· fresh sheets & towel
· mosquito net
· candle
· lockbox in each room (please bring your own lock)
· 3 meals per day
· composting toilets
· solar-heated showers
· sinks with running water & mirrors
· biodegradable toiletries upon request (additional charge)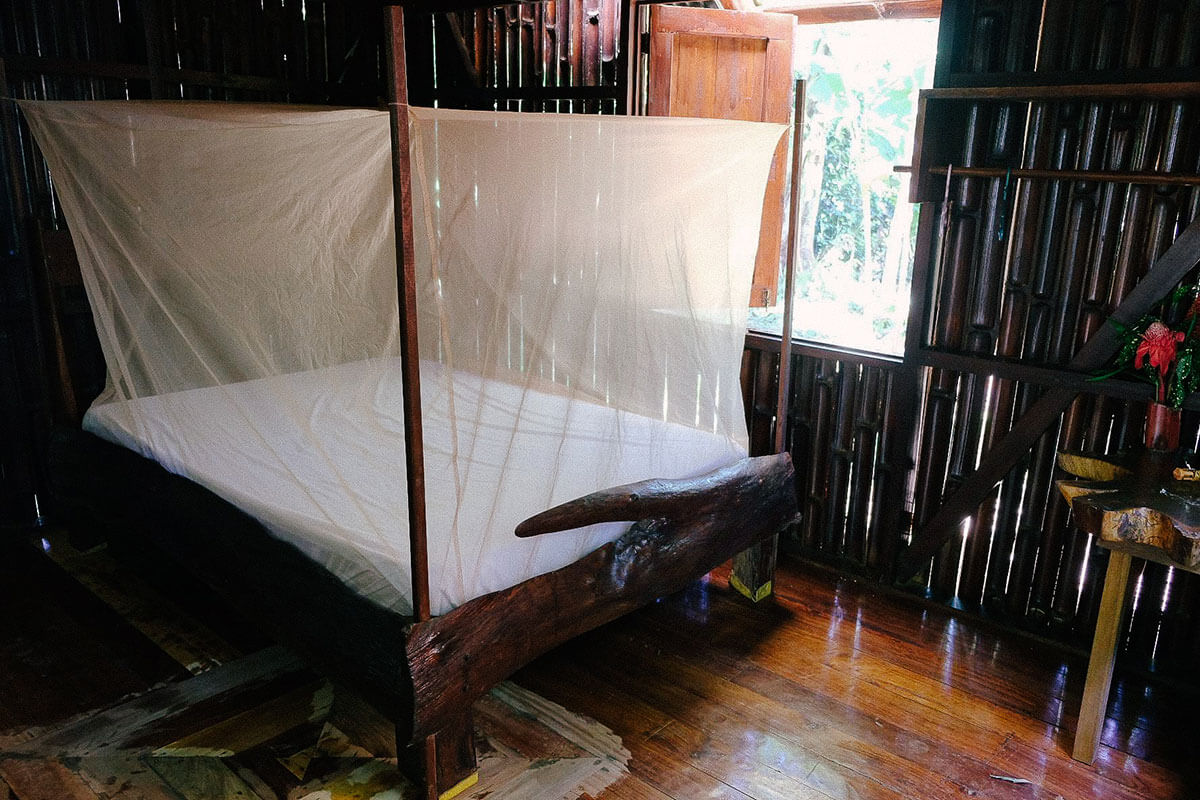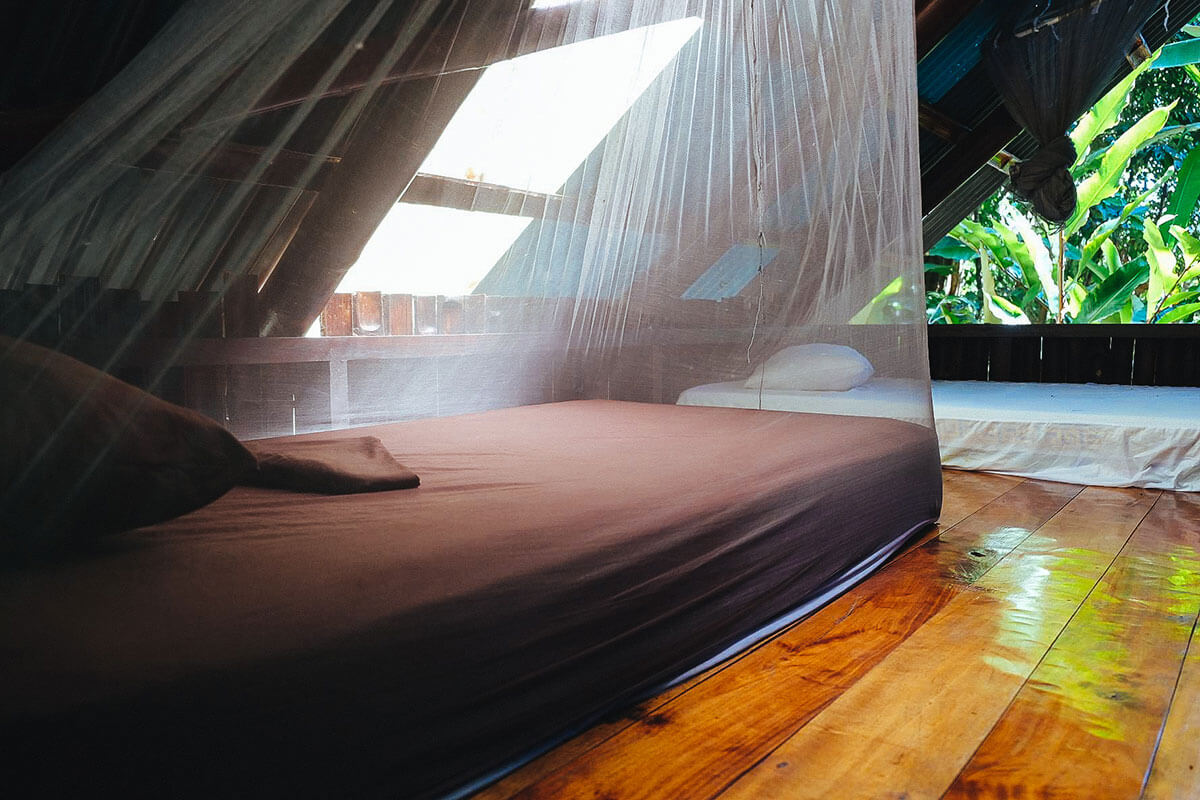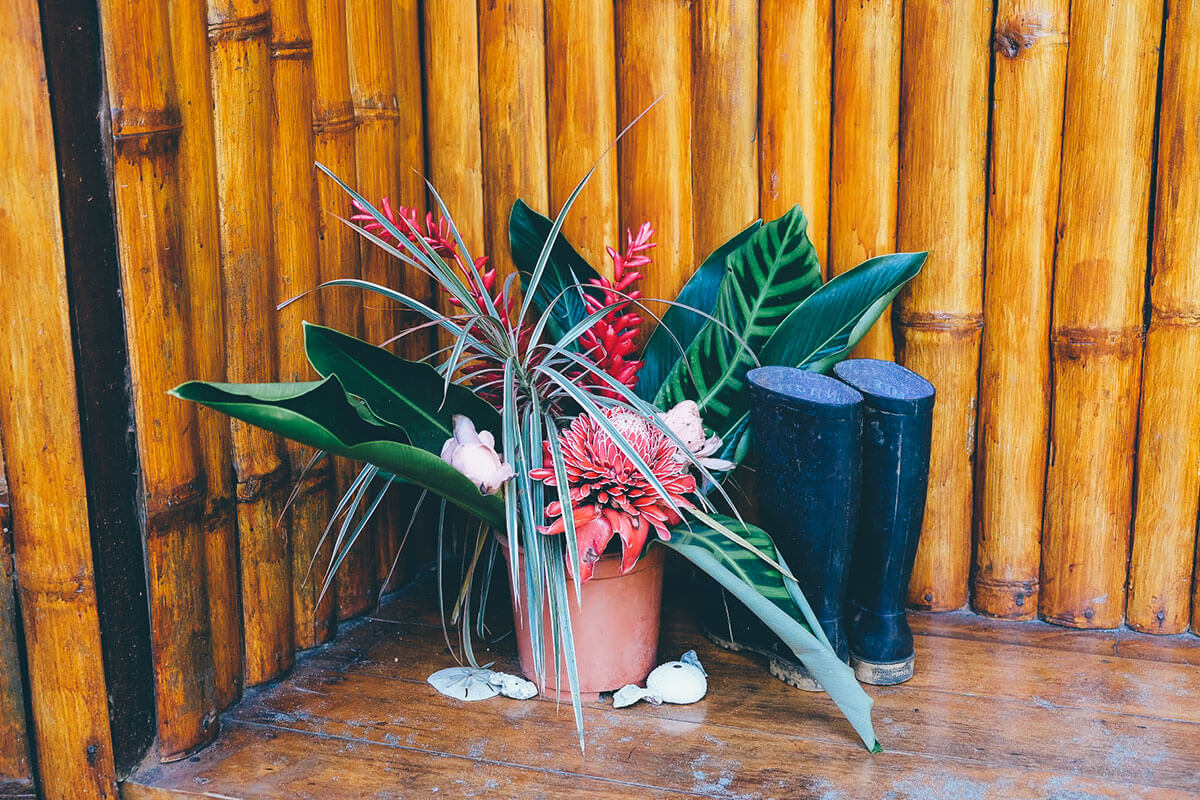 CASITAS
Our casitas are private, stand-alone cabins. They are our "jungle eco-luxury" option for guests who want a bit more privacy or romance. The casitas have a double bed and a single loft with electricity and shared facilities.
Rates:
Per Night – Single Occupancy: $145 / Double: $205
The maximum capacity is two adults. Additional kids are $45 each per night.
CUARTOS
Our most popular accommodation is private or shared rooms in our main or back house. These rooms have 1-3 beds, open or screened windows, mosquito nets, lockboxes and often closet rods for hanging clothes. Come with friends, or get to know fellow travelers and Punta Monians.
Rates:
Single Room: Per Person, Per Night: $115

Shared Room: Per Person, Per Night: $95

Per Child 5-10 Years Old, Per Night: $45

Children Under 5 Free
BUNGALOW
These are our most rustic accommodation option. Our bungalows, or beach shacks, have two beds and come equipped with mosquito nets. You'll be surrounded by the sound of the roaring ocean and the evening jungle chorus.
The bungalows are simple structures of timbre framework and shade cloth walls and flooring. They are comfortable for the simple traveler and for a weekend stay - however they are more susceptible to visiting bugs, and dampness in the rainy season (May - September) so if you are staying with us longer term consider your personal comfort needs.
Rates:
Single Room: Per Person, Per night: $95

Shared Room: Per Person, Per Night: $75
SHOWERS
Our community shares solar-heated fresh-water showers. Please bring only biodegradable products for bathing, as our water is recycled back into the Earth. At Punta Mona we keep our showers as brief as possible (and turn the water off while soaping up) to conserve our precious supply of water. Showering with a friend is another favorite eco-friendly, water saving technique ;)
SOLAR CHARGING
Our main community house is equipped with electrical outlets where you can charge your devices. We limit charging to daytime hours when the sun is out, and try not to charge on cloudy days to conserve our solar-generated power.
FARM-FRESH ORGANIC MEALS
The food at Punta Mona is DELICIOUS. We prepare 3 farm-to-table community meals each day, packed with nutrient-rich fruits, roots, greens, and herbs. Learn more about our kitchen and our food here.
COMPOSTING TOILETS
Our shared dry toilets are located throughout the property and are cleaned and maintained daily by our staff. Composting toilets are an amazing way to practice a closed-loop balanced eco-friendly lifestyle. Learn more about how we make Humanure here.
WIFI
At Punta Mona we like to "disconnect to reconnect" - unplugging from our phones and social media as much as possible to deepen our presence and in-person relationships. That being said, we still like to make contact with the outside world from time to time, and we offer WiFi to our guests in the main community house from 12-2pm and 7-8pm after dinner.
BEACHFRONT DINING
There are many nooks around Punta Mona to enjoy your meals or an afternoon tea… one of our favorites is the picnic tables on the beach, overlooking the Caribbean.
Shared Spaces
As our guest, you are part of our Punta Mona family, and we encourage you to enjoy all of our shared spaces throughout our home.